---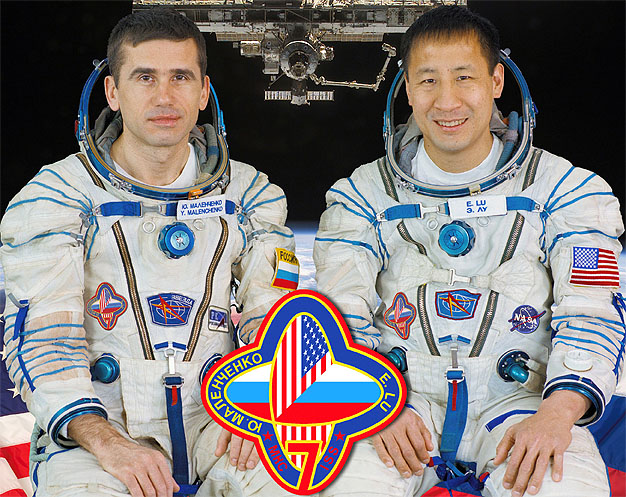 Left:(ISS007-S-002 - March 2003) --- Expedition Seven Commander Yuri I. Malenchenko (left), and NASA ISS Science Officer and Flight Engineer Edward T. Lu pose for their crew portrait while in training at the Gagarin Cosmonaut Training Center in Star City, Russia for their scheduled launch in a Soyuz TMA-2 spacecraft later this year. Malenchenko represents Rosaviakosmos, the Russian Aviation and Space Agency.
---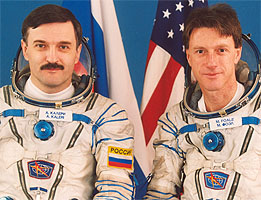 Above: the original back-up crew for exp-7.
---
Left:
---
---
---
(ISS007-S-001 - March 2003) --- The International Space Station (ISS) Expedition Seven patch consists of two elliptical orbits which evoke the histories of the two space programs from which the crew is drawn. The Russian and American flags are intersecting, representing the peaceful cooperation of the many countries contributing to the ISS. Two stars indicate the Station's goals of contributing to life on Earth through science and commerce.
The first 3 designs of the Exp-7 patch.
---
These two Exp-7 patches were made by Randy Hunt.
---
EXP-6 | ISS Index | EXP-8