---
(ISS008-S-002 - August 2003) --- Astronaut C. Michael Foale (right), Expedition 8 mission commander, and cosmonaut Alexander Y. Kaleri, flight engineer, pose for their crew portrait while in training at the Gagarin Cosmonaut Training Center in Star City, Russia for their scheduled launch in a Soyuz TMA-3 spacecraft later this year. Kaleri represents Rosaviakosmos.
---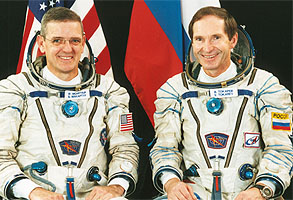 Right: The back-up crew for exp-8.
---
Left:
---
---
---
(ISS008-S-001 - August 2003) --- This emblem represents the eighth long-duration expedition to the International Space Station. The banner encircling the Earth, as a stylized figure 8, combines the flags of the partner nations represented by the crew. The International Space Station is portrayed above the Earth in its assembly complete configuration. The names of the two crewmembers, Michael Foale and Alexander Kaleri, are depicted in the border.
---
---
EXP-7 | ISS Index | EXP-9