---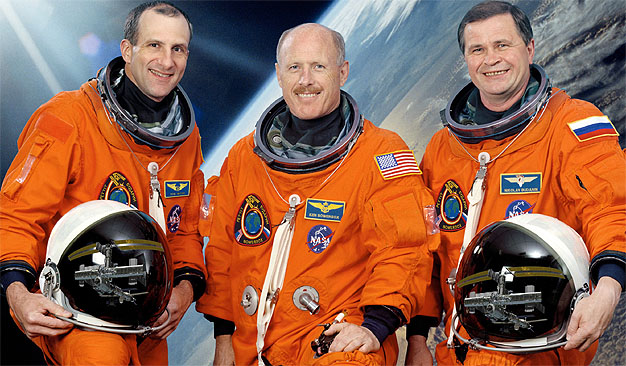 (ISS006-S-002 - September 2002) --- Astronauts Donald R. Pettit (left), Expedition Six flight engineer; Kenneth D. Bowersox, mission commander; and cosmonaut Nikolai M. Budarin, flight engineer, attired in training versions of the shuttle launch and entry suit, pause from their training schedule for a crew portrait. The three will be launched to the International Space Station (ISS) in late autumn of this year aboard the Space Shuttle Endeavour. Budarin represents Rosaviakosmos.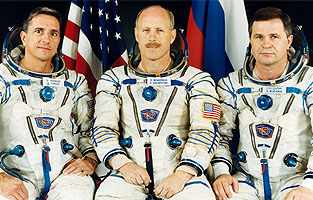 Right: the Original back-up crew for exp-6.
---
Left:
---
---
---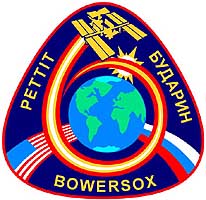 (ISS006-S-001 - March(L)/September(R) 2002) --- The International Space Station (ISS) Expedition 6 crew patch depicts the station orbiting the Earth on its mission of international cooperation and scientific research. The Earth is placed in the center of the patch to emphasize that work conducted aboard this orbiting laboratory is intended to improve life on our home planet. The shape of the Space Stationís orbit symbolizes the role that experience gained from ISS will have on future exploration of our solar system and beyond. The American and Russian flags encircling the Earth represent the native countries of the Expedition 6 crew members, which are just two of the many participant countries contributing to the ISS and committed to the peaceful exploration of space.
---
---
EXP-5 | ISS Index | EXP-7