---
Left: The crew in their training Sokols. Right: The crew in training flightsuits. Note the illustration of the mission patch behind them.
Mission
---
The crew with their flight Sokols. Note that the TM-29 mission patch is not yet attached.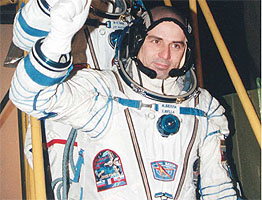 The cosmonauts on launchday. Note that the mission patch is added and that Haigneré has relocated his CNES patch to make room for it. All three cosmonauts were now wearing the newer Zvezda-Mir patch with letter MIR off to the right and embroidered onto blue nylon.
---
Left: The TM-29 crew in PK-14 suits, together with the Mir-26 crew. Right: Afanasyev in his PK-14 suit following landing, wearing the Stefanik patch.
Left: Afanasyev and Avdeev in Penguin suits; Haigneré in an Esa-polo. Avdeyev is now also wearing the Perseus patch. Center: Afanasyev in a red "Centaur"-suit. Right: Bella in colorful working clothes.
---
Left: The spacewalk on July 29, 1999. Both cosmonauts were wearing blue striped Orlan DM-suits: Afanasyev was wearing M-6 and Avdeev was wearing M-4. Right: The reflector experiment.
---
Soyuz TM-29/EO-27 Patch History

Left: The Stefanik artwork. Right: The Soyuz TM-29 artwork.

With two foreign cosmonauts aboard, neither of the "scientific" mission logo's could be classified as 'official'. It would not make sense to have Bella wear the Perseus logo or let Haigneré fly with the Stefanik-emblem. Maybe this is the reason why the Planeta Zemlja/Spaceview Operations patch ended up on the Sokol suits.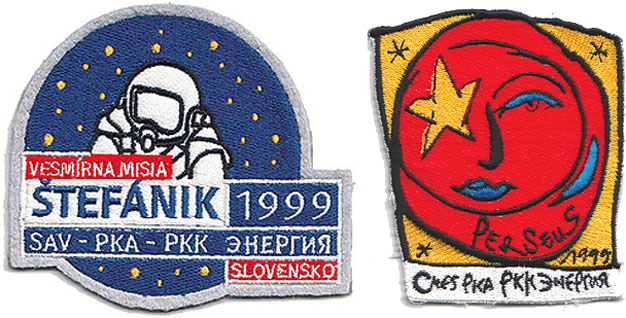 Left: The Stefanik patch. Right: The Perseus patch.

When Spaceview and Planeta Zemlja started their co-operation, it was agreed that the EO-26 patch would be designed by Planeta Zemlja and the EO-27 patch by Spaceview. Since part of the EO-26 crew (Avdeev) remained on Mir, Spaceview designer Luc van den Abeelen decided to design a patch for Soyuz TM-29 instead. It was produced by Aviation Patch Supplies (APS) and for the first time since Soyuz TM-19 (which had also been an APS patch - then under Spaceview/Novosti Kosmonavtiki co-operation), the crew was wearing a Soyuz-mission patch on their flight Sokols.



---
Collecting Soyuz TM-29/EO-27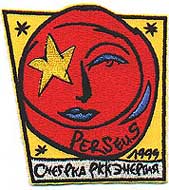 Left: Alex Panchenko's Stefanik patch. Center: Stewart Aviation's version. Right: The Stewart Aviation Perseus patch.

Stewart Aviation and a couple of German patch dealers bought their Soyuz TM-29 patches directly from Spaceview, so the official patch was available in big quantities to collectors. Therefore, no souvenir versions were produced.

Stewart did make a copy of the Perseus patch and Alex Panchenko did have a souvenir version of the Stefanik patch available. It had several black components that should have been white. Also, the visor of the cosmonaut was filled with a black 'grid'. This design was in turn copied by Stewart, so two 'black' souvenir versions with 'filled' visors exist.


The Presentation Patch Set
---
TM-28 | Mir Index | TM-30