---
Left: The crew in their training Sokols. Right: The crew in training IVA suits.
Mission
---
The crew in their flight Sokols.
Baturin was wearing a new type of Mir patch, produced by Vimpel. It was embroidered on plain blue nylon. It can be easily recognized: the "M" of Mir does not start at the center of the patch, but is off to the right.
---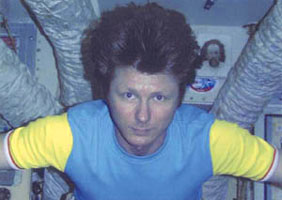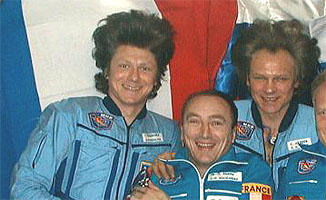 Left: Padalka in a the colorful outfit. Note the Mir-26 logo in the background. Right: Padalka and Avdeev wearing their Penguin suits near the end of Padalka's stay.
---
---
Soyuz TM-28/EO-26 Patch History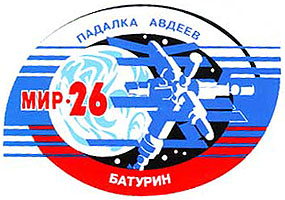 Left: The artwork by Dmitriy Shcherbinin. Note that the cloud pattern is copied from the Planeta Zemlja Mir-24 patch. Right: The artwork translated into the patch design.

For the three previous Mir missions, a patch had been produced by both Planeta Zemlja and by Novosti Kosmonavtiki/Spaceview. When the two met at a Russian air and space fair, they decided to co-operate and take turns in designing patches for the Mir missions. Dmitriy Shcherbinin of Planeta Zemlja would design the artwork for Mir EO-26; Spaceview would take care of the embroidery. As was the case with previous Spaceview patches, they turned to Aviation Patch Supplies. Although the patch was official, it was only worn on the Earth-bound flightsuits.
---
Collecting Soyuz TM-28/EO-26


Stewart Aviation and a couple of German patch dealers bought their Mir-26 patches directly from Spaceview, so for the first time, the official patch was available in big quantities to collectors. Therefore, no souvenir versions were produced.
---
TM-27 | Mir Index | TM-29