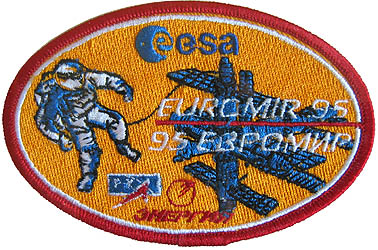 1995
---

Left: Gidzenko, Reiter and Avdeyev in training Sokols. Right: The TM-22 crew with the astronauts of Atlantis/STS-74, who would visit them in orbit. The Russians are wearing their TK-4 training suits; Reiter is wearing a European made suit. (NASA photo S-95-13774)


---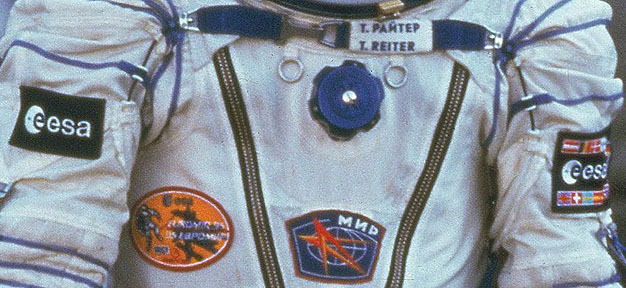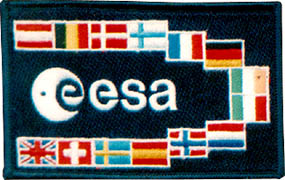 ---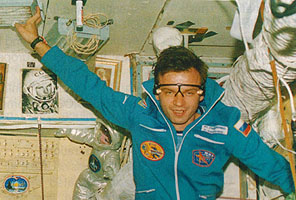 Left: Gidzenko wearing his PK-14 jacket. Note "Vakosha" floating next to him. Right: The crew in their Penguin suits.



Left: Flag worn by Gidzenko. Right: Nametag worn by Gidzenko.



Left: Reiter wearing a new type of suit, designated "Centaur". Probably, similar suits in different color schemes were available for Gidzenko and Avdeyev. Right: The crew wearing the Crew Vest as part of an ESA-experiment. The vests were delivered to the station by Progress 30 on December 20, 1995.
---


The Euromir 95 patch was designed by an ESA-artist. We do not have any further information at this time.
---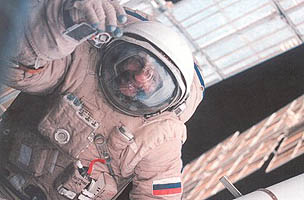 Left: Thomas Reiter in Orlan DMA-26. Note the Euromir 95 patch on his shoulder and the USAF-nametag on his chest. Right: Sergei Avdeyev in Orlan DMA-18.

The EO-20 crew made three spacewalks. The first (installation of European science equipment) was performed on October 20, 1995 by Sergei Avdeyev and Thomas Reiter. Avdeyev was wearing blue striped DMA-18, used once before by Serebrov on EO-15, twice by Musabayev on EO-16, five times by Strekalov on EO-18 and three times by Budarin on EO-19. Reiter was wearing blue striped DMA-26, which was a new suit.

The second spacewalk (installation of docking cone and inspection of Priroda) was done on December 8 by Gidzenko and Avdeyev. Avdeyev was again wearing blue striped DMA-18, Gidzenko was wearing red striped DMA-25, used before four times by Tsibliev on EO-15 and twice by Malenchenko on EO-16.



The third EVA: Yuri Gidzenko (left) wearing DMA-25 and Thomas Reiter (right) wearing DMA-26. Note that Gidzenko is wearing the Euromir 95 patch.

The third spacewalk (removal of European science equipment) was made by Gidzenko and Reiter on February 8, 1996. Gidzenko again used red striped DMA-25; Reiter again used blue striped DMA-26.
---
Novosti Kosmonavtiki / Spaceview Operations Crew Patch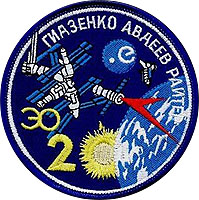 Left to right: the original design as faxed from Novosti Komonavtiki to Spaceview Operations; the cyrillic version produced by Aviation Patch Supplies; the cyrillic copy made by Stewart Aviation.

The crew used the Euromir-95 patch as their official crew logo, but Novositi Kosmonavtiki did come up with a crew patch. The artwork was done by a reader of the magazine, Oleg Shitikov. It was corrected by Konstantin Lantratov and faxed to Spaceview Operations in Amsterdam, the Netherlands, where final corrections were made by Luc van den Abeelen, before sending it off to Aviation Patch Supplies in Soest, the Netherlands, who produced the embroidered version. It was presented to the crew during training on August 2, 1995, a month before launch.

Most noticable differences between the original Russian artwork and the correction made at Spaceview Operations are the size of the Soyuz' solar panels and the cloud pattern. Luc included the letters "MT" in memory of Misha Terweij, the 24-year old daughter of Spaceview Operations founder Jaap Terweij, who was fataly shot in Amsterdam on May 18, 1995.

We have no indications the crew patch was worn by the crew, but a flown version with Mir onboard handstamps showed up in the Superior Galleries Fall 2000 Space Memorabilia Auction (Lot 2100). The patch was consigned by EO-20 commander Yuri Gidzenko, indicating it was carried to the space station by the crew. It was sold for $230.



Left to rigth: the latin version produced by Aviation Patch Supplies, a detail from the Superior Galleries Fall 2000 Space Memorabilia Auction patch with onboard stamps and Gidzenko wearing the patch during zero-gravity training for ISS Expedition-1.

---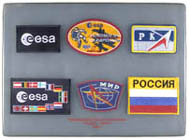 Left: the Presentation patch Set. Center: The original patch compared to the Stewart Aviation souvenir version, shown at right.

We bought our original Euromir-95 patch from a dealer in Moscow in 2002, who had two of them available at the time.

A third patch we have seen for sale, was part of a Superior Galleries Fall 2000 Space Memorabilia Auction Presentation Patch Set (lot 2103, picture above) which was sold for $103.

A souvenir version of the Euromir 95 patch was produced by Stewart Aviation and by Eagle One Aerospace (currently Cargo Bay Emblems) who still have them available.

Spaceview Operations has run out of original EO-20 crew patches, but both the Cyrillic and Latin souvenir versions are still available from Stewart Aviation.


---
EO-19 | Mir Index | TM-23