---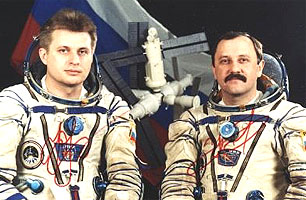 Left: Yuri Onufrienko and Yuri Usachev in training Sokols. Right: The crew in IVA-training suits.
Mission
---
Left: Onufrienko and Usachev in their flight Sokols, wearing the Shuttle-Mir patch. Center: Shannon Lucid with her flight Sokol. Right: Shannon Lucid wearing her STS-74 Shuttle Launch & Entry Suit.
---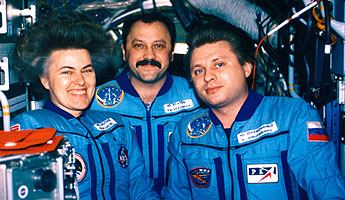 Left: The EO-21 crew in Penguin suits. Lucid did not wear the EO-21 Expedition patch. Right: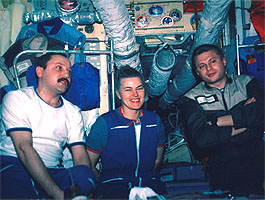 Left: Onufrienko wearing a new type of Mir-IVA suit (right). Usachev's new suit (inverted colors) is visible behind him. Right: Lucid wearing a pink colored suit of the same type.
---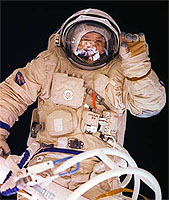 Left: Onufrienko wearing Orlan DMA-25. Center: Usachev wearing Orlan DMA-26. Right: Usachev wearing Orlan DMA-26 - note the Zvezda-patch.

The two cosmonauts performed five spacewalks. Onufrienko was wearing red-striped DMA-25, which was used before four times by Tsibliev on EO-15, twice by Malenchenko on EO-16 and twice by Gidzenko on EO-20.

Usachev was wearing blue striped DMA-26, used twice before by Thomas Reiter on EO-20.
---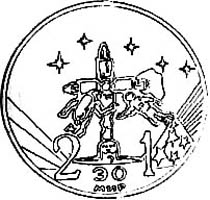 Left: The original fax, drawn by Oleg Shitikov. Center: The Spaceview Operations / Aviation Patch Supplies Latin version. Right: Lucid wearing the patch in her official post-flight NASA portrait.
---
Left: Russian alternate design, produced by Eagle One Aerospace. Center: The Russian version seen as sticker attached to the EVA-hatch. Right: Yuri Onufrienko's personal Molchanov-patch.
---
Left: Stewart Aviation souvenir version. Right: AB Emblem souvenir version.
---
TM-22 | Mir Index | TM-24