---
Left: Nikolai Budarin and Anatoli Solovyev during training in Russia. Budarin is wearing his personal 'Molchanov patch'. Solovyev can be seen wearing the yellow-tab 'Rossia' flag. Right: Budarin and Soloyev
with the Mir-18 and STS-71 crews.
Mission
---
The Launch & Entry Suits / Flight Sokols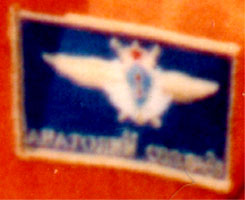 Left: Solovyev and Budarin in their Shuttle Launch & Entry Suits. Center: Detail of Solvyev's cosmonaut wing. Right: The Russians were wearing a Russian flag.
Left: Budarin with the EO-19 Sokol suits. They did not have a mission patch attached; just the Zvezda/Mir-logo, the RKA-patch and the Russian flag. Right: A detailed look at Solovyev's Sokol.
---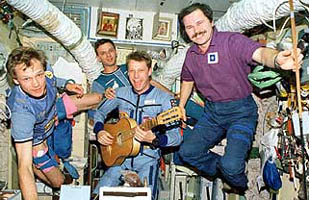 Left: Budarin wearing his Penguin suit, with Zvezda/Mir-logo and RKA-patch. Right: Budarin wearing his Shuttle-outfit during handover to the EO-20 crew of Sergei Avdeyev (left), Yuri Gidzenko (background) and Thomas Reiter (with guitar).
---
Solovyev and Budarin staged three spacewalks on July 14, July 19 and July 21, 1995. During the first walk, they deployed one of Spektr's solar arrays. Their second walk was devoted to removing equipment and experiment tray. During their final spacewalk they installed the MIDAS spectrometer. Solovyev used Orlan DMA-27 (red stripes - used before three times by Vladimir Dezhurov om EO-18) and Budarin used Orlan DMA-18 (Blue stripes - used once before by Alexandr Serebrov on EO-14, twice by Talgat Musabayev on EO-16 and five times by Gennadi Strekalov on EO-18).
---
The two EO-19 cosmonauts were launched aboard Space Shuttle Atlantis. They were part of the STS-71 crew and their names appeared on the STS-71 patch. Following Atlantis' and Thgard's departure, the EO-19 mission did not get very much attention from the press.

Still, Novosti Kosmonavtiki drew up a design for an EO-19 patch and faxed it to the Netherlands. Luc van den Abeelen improved the composition of the parachute lines and the Shuttle, after which Aviation Patch Supplies produced the embroidered patch. The crew did have the patches with them during the mission - they were not attached to any clothing or flight equipment, but we did see a flown and stamped version.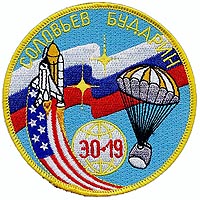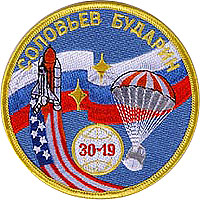 Left: The original fax as received from Novosti Kosmonavtiki. Center: The Stewart Aviation souvenir version. Right: The Novosti Kosmonavtiki/Spaceview Operations/Aviation Patch Supplies version shown again for comparison. This one was flown and stamped aboard Mir.

Stewart Aviation got hold of the original design (probably through Vadim Molchanov) and produced their own souvenir version. Main difference is the composition and the color of the parachute lines, which are black instead of white.


---

Left: Budarin's personal patch Right: Solovyev's personal patch.

Budarin was seen wearing his personal 'Molchanov'-patch during training; Solovyev did not wear it.
---
---
TM-21 | Mir Index | TM-22