STS-96
---
Crew & Mission
(STS096-S-002 -April 1999) --- Six NASA astronauts and a Russian cosmonaut take a break from training to pose for the STS-96 crew portrait. Astronaut Kent V. Rominger, mission commander, is at left on the front row. Astronaut Rick D. Husband, right, is pilot. The mission specialists are Ellen Ochoa (front center) and, from the left on the back row, Daniel T. Barry, Julie Payette, Valeriy I. Tokarev and Tamara Jernigan. Payette represents the Canadian Space Agency (CSA) and Tokarev is with the Russian Space Agency (RSA). The crew will perform the first station docking and will become the first visitors to the new International Space Station since its launch and start of orbital assembly.
---
The Artwork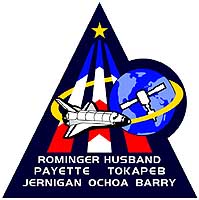 (STS096-S-001 -February 1999) --- Designed by the crew members, this is the mission insignia for the STS-96 space flight, the second Space Shuttle mission dedicated to the assembly of the International Space Station (ISS). The crew patch highlights the major themes of the Station Program: Earth-directed research, the advancement of human space exploration, and international cooperation. The Space Shuttle Discovery is depicted shortly after reaching orbit as the crew prepares to carry out the first docking with the new Station. At this early stage in its construction, ISS consists of two modules: Zarya and Unity, shown orbiting Earth. The triangular shape of the patch represents building on the knowledge and experience of earlier missions, while the three vertical bars of the astronaut emblem point toward future human endeavors in space. The five-pointed star that tops the astronaut emblem in this depiction is symbolic of the five space agencies participating in the development of ISS: NASA, the Russian Space Agency, the European Space Agency, the National Space Development Agency of Japan, and the Canadian Space Agency. The blend of red, white, and blue is a tribute to the nationalities of the crew members who are from the United States, Canada, and Russia.
-----

"I work in the JSC Graphics Department, and worked with Rick Husband to produce his first flight patch: The STS-96 patch. This was also the first Shuttle crew patch I had been assigned, and I was a little in awe of working directly with an astronaut, but Rick quickly put me at ease. He treated me as if my job wass as important to the space program as his..."
Cindy Bush, Graphic Designer, in: The Space Center Roundup, February 2004.
---