---
KSC-95EC-1244 - STS-69 Crew members display "Dog Crew" patches.
KSC-95EC-1280 - STS-69 crew eat breakfast before flight.
---
A good-natured bulldog makes it home in the aft compartment of the Space Shuttle Endeavour, wich is poised to orbit the "Dog Crew-II" on mission STS-69. The five Astronauts of the Dog Crew-II trace their pedigree to the "Dogs of War", a tight pack of flight controllers, astronaut trainers and astronauts who carried out STS-53 in December 1992, the last of the Defense Department's classified Shuttle missions. Each team member adoted a dogtag, or nickname.

Navy Captain David M. Walker, known throughout his years of militairy service as "Red Dog", commanded STS-53. When the veteran Shuttle astronaut was chosen as op dog for STS-69, the red-headed native of Eustis, Florida, dug up the bone of cameraderie again. "It's a morale builder", he barks, and "gives us a excuse for parties".

Joining "Red Dog" on Endeavour's ninth flight into space are: "Dogface" (Army Colonel James S. Voss), flying as payload commander, from Opelila, AL., as well as the original litter); "Cujo" (Shuttle Pilot Kenneth D. Cockrell, a mild-mannered native of Austin, TX); "Pluto" (James H. Newmann, Ph.D., flying as mission specialist, a physicist and computer whiz from San Diego, CA.); and "Underdog", the spaceflight rookie and mission specialist (Michael L. Gernhardt, Ph.D., a bioengeneer from Mansfield, OH.).

A fellow Dog of War, "Dog Gone" (astronaut Guion Bluford bestowed Voss'dogtag as a tribute to the Dogface Soldiers, the Army Infantrymen of World War-II. Cockrell takes his "Cujo dogtag from the Steven King novel of the same name. Newman is tagged "Pluto" because of his interest in science and what his crewmates describe as a "unique perspective on life". Besides, "Red Dog barks "he said he'd kill us if we call him Goofy". "Underdog" was natural tag for Gernhardt, the pup, who turned tail on a career as a professional deep-sea diver to become an astronaut.

They are the "Dog Crew-II", and they roam the planet in the "Dogmobile", arguably the hottest jalopy in Houston. As conveyance for the crew of a classified Defense Department mission, "Endogvour" had a coat of flat-black paint. Now the 1979 Pontiac station wagon is a peaceful T-38 training jet white, trimmed in blue and dotted with paw prints. It's sports a variety of surplus flight hardware.

Story by: Ken Havekotte of SpaceCoast Cover Service, Merritt Island, Florida.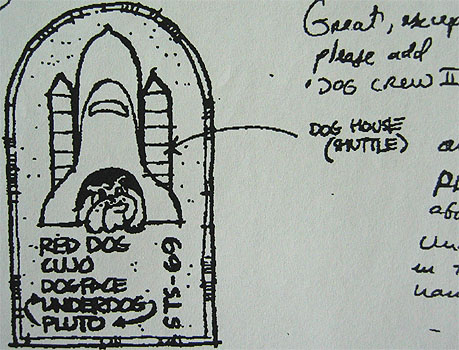 The Dog Crew-II patch was designed by artist Joel katzowitz of Marietta, GA, USA. And produced by SpaceCoast Cover Service of Merritt Island, Florida.
KSC-95EC-1265 - STS-69 Mission Commander David M. Walker arrives at SLF.
---