---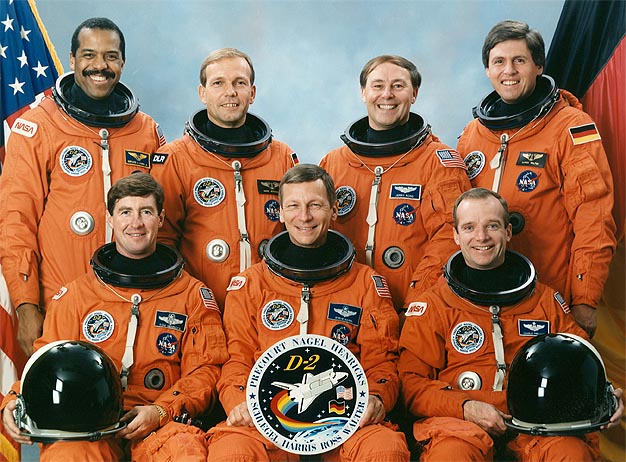 (S) -- The STS-55 crewmembers are Commander Steven R. Nagel, Pilot Terrence T. Henricks. Mission Specialist (MS) and Payload Commander (PLC) Jerry L. Ross, MS2 Charles J. Precourt, MS3 Bernard A. Harris, Jr, Payload Specialist 1 Ulrich Walter, and Payload Specialist 2 Hans Schlegel.
Mission: D-2 Spacelab Mission
Space Shuttle: Columbia
Launch Pad: 39A
Launched: April 26, 1993, 10:50 a.m. EDT
Landing Site: Edwards Air Force Base, Calif.
Landing: May 6, 1993, 10:30 a.m. EDT
Landing Weight: 244,400 pounds
Runway: 22
Rollout Distance: 10,125 feet
Rollout Time: 61 seconds
Revolution: 148
Mission Duration: 9 days, 23 hours, 39 minutes, 59 seconds
Orbit Altitude: 163 nautical miles
Orbit Inclination: 28.45 degrees
Miles Traveled: 4.2 million
---
In the first design on the left, the orange is missing in the rainbow and the stars are different also they used a different type of letters...
(STS055-S-001 -) --- STS-55 Columbia, Orbiter Vehicle (OV) 102, crew insignia (logo), the official insignia of the NASA STS-55 mission, displays the Space Shuttle Columbia, Orbiter Vehicle (OV) 102, over an Earth-sky background. This mission is the second dedicated German (Deutsche) Spacelab flight and has accordingly been designated D-2. Depicted beneath the orbiter are the American and German flags flying together, representing the partnership of this laboratory mission. The two blue stars in the border bearing the crewmembers' names signify each of the backup (alternate) payload specialists -- Gerhard Thiele and Renate Brummer. The stars in the sky stand for each of the children of the crewmembers in symbolic representation of the space program's legacy to future generations. The rainbow symbolizes the hope for a brighter tomorrow because of the knowledge and technologies gained from this mission's multifaceted experiments. Each crewmember contributed to the design of the insignia.
---
---
STS-56 | Shuttle Mission Index | STS-57