---
(S82-25504 - 13 January 1982) -- The STS-3 Crew Commander Jack Lousma, left, and Pilot Gordon Fullerton wearing modified USAF-type altitude pressure garments in the Shuttle trainer.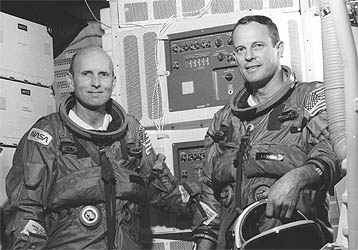 Mission: Third Shuttle Mission/Office of Space Science-1(OSS-1).
Space Shuttle: Columbia.
Launch Pad: 39A.
Launched: March 22, 1982 at 11:00:00 a.m. EST.
Launch Weight: 235,415 pounds.
Landing Site: White Sands, New Mexico.
Landing: March 30, 1982 at 9:04:46 a.m. MST.
Runway: 17 - Northrup Strip.
Rollout Distance: 7,711 feet.
Rollout Time: 53 seconds.
Revolution: 130.
Mission Duration: 8 days, 0 hours, 4 minutes and 46 seconds.
Returned to KSC: April 6, 1982.
Orbit Altitude: 147 nautical miles.
Orbit Inclination: 38.0 degrees.
Miles Traveled: 3.335 million.
---
This is the insignia for NASA's third flight of the space transportation system's (STS) Columbia depicted in the middle of the blue sphere against the background of the sun. The Columbia's tail, nose, and top were pointed at the sun for long periods to test its thermal response to extremes of temperatures. The three prominent rays represent the third STS flight. The surnames of Astronauts Jack R. Lousma, commander, and C. Gordon Fullerton, pilot, flank the vehicle, and the name Columbia appears at the bottom. The spacecraft's payload bay doors are open, and the remote manipulator system (RMS) arm with an experimental payload is extended as it was on several occasions during the actual flight. The art work was accomplished by space artist Robert C. McCall of Paradise, Valley,Arizona and final graphic preparation was done by Noah Sheridan of Kentron International.
---
AB Emblem: These were manufactured as a special request for the astronauts. No additional emblems exist nor will be made. (Thanks to Harald Kraenzel)
"J.R." for "J"ack "R"obert Lousma.
"C.G." for "C"harles "G"ordon Fullerton.
---
---
Above: The STS-3 Lion Brothers patch.
This patch was made for the Landing of Space Shuttle Columbia after mission STS-3 at White Sands.
---
STS-2 | Shuttle Mission Index | STS-4