---

Left: The Soyuz TMA-3 official crew photo. Right: (JSC2003-E-59047 - 12 October 2003) Astronaut C. Michael Foale and cosmonaut Alexander Y. Kaleri are joined by European Space Agency astronaut Pedro Duque of Spain at the Gagarin Cosmonaut Training Center in Star City. Below: The prime and Back-up crews of Soyuz TMA-3.
---
---
The Soyuz TMA-3 crew on its way to the Soyuz rocket on launch day.
---
---
The Soyuz TMA-3 patch was designed by Dutch Spaceview artist Luc van den Abeelen. The patch was embroidered by Aviation Patch Supplies (APS) in the Netherlands.
---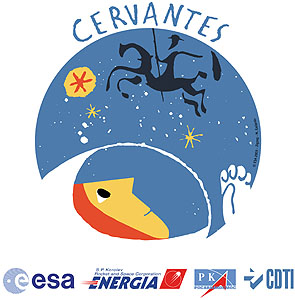 Miguel de Cervantes is without doubt the most international Spanish writer. Therefore, there could not be a better name for a mission to the International Space Station with so much Spanish involvement. The Cervantes Mission will contribute to further internationalizing Spanish science and technology.
"The astronaut looks to the sky and extends his hand towards the stars that he hopes to reach some day. He, like Cervantesí hero, Don Quixote, is anxious to explore the Universe to discover the mysteries of life. In the constellation, the biggest star is the one placed there by man: the International Space Station, which already shines above our heads and will be the oasis for the conquerors of space".
The patches on Pedro Duque's Sokol suit from left to right: The ESA memberstats flag patch, the Cervantes logo, The Zvesda patch, the CDTI logo, Pedro's name tag and the Spanish flagpatch.
(The Spanish Ministry of Science and Technology, through the Centre for Development of Industrial Technology (CDTI), sponsored the mission).
---
---
TMA-2 | ISS Index | TMA-4