---
(ISS004-S-002 - October 2001) - Expedition Four crew members take a break from training for their scheduled upcoming stay aboard the International Space Station (ISS) to pose for the traditional pre-flight crew portrait. Cosmonaut Yuri I. Onufrienko (standing at center), mission commander, is flanked by astronauts Daniel W. Bursch (left) and Carl E. Walz, both flight engineers.
Right: the Exp-4 back-up crew.
---
Left:
---
---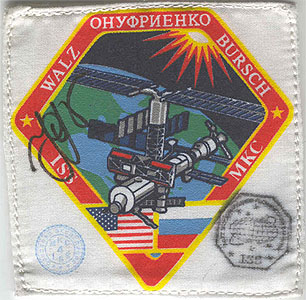 ---
(ISS004-S-001 - August 2001) --- The International Space Station (ISS) Expedition Four crew patch has an overall diamond shape, showing the "diamond in the rough" configuration of the Station during expedition four. The red hexagonal shape with stylized American and Russian flags represents the cross-sectional view of the S0 truss segment, which the crew will attach to the U.S. Lab Destiny. The persistent Sun shining on the Earth and Station represents the constant challenges that the crew and ground support team will face every day while operating the International Space Station, while shedding new light through daily research. The green portion of the Earth represents the fourth color in the visible spectrum and the black void of space represents humankind's constant quest to explore the unknown.
---
---
EXP-3 | ISS Index | EXP-5