Soviet Seal
(No Border)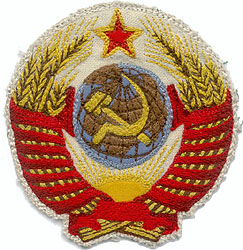 (1975 - 1980)
---
The Soviet Seal seems to have been especially designed for the international Apollo-Soyuz (Soyuz-19) mission. The smaller version (with yellow overlock border) first showed up in 1974 in Soyuz-19 training photography, but it was the second version shown here (handcut pattern; without border) that was worn during the actual mission.

We have seen the borderless patch worn by Yuri Romanenko on a Soyuz-38 red/navy intravehicular training suit (1980). Romanenko was back-up commander for the Soyuz-19 mission, which maybe the reason why he was still wearing this borderless ASTP Soviet Seal.

---
The Real Thing


The borderless Soviet Seal patch worn by Valeri Kubasov aboard Soyuz-19 (Apollo-Soyuz) in July 1975.
---
Source

This patch was not made commercially available. A replica, shown here, was made by Stewart Aviation in England in the late 1980's.

---
Previous | Next
Salyut Index
---