Guy Laliberte's personal patch for his Poetic Social Mission
---
Guy Laliberté on his website: "I wanted the badge to include several symbolic elements: the water drop, in reference to the logo of the ONE DROP Foundation; planet Earth, as I will see it from space; and the hands of five children not only to represent my own five kids but also to symbolize future generations. The voyage is depicted by the rocket, and the destination by the International Space Station. Blue is the dominant colour because of its association with water, the source of life. The water drop is the dominant motif; it envelops the Earth and serves as a reminder of the importance we should give it. To remind us of the purpose of the Poetic Social Mission, we have included the ONE DROP motto: WATER FOR ALL, ALL FOR WATER."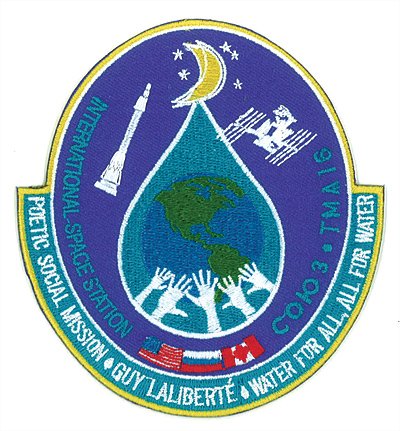 This variation of the embroidered patch differs subtly from the flown version: the stars are not connected to the moon and the ISS is less detailled. It is not 100% embroidered and has a dark blue twill background. Note the strange configuration of ISS, with a half-completed Russian 'power tower', a long deleted item.
---
Laliberté Cirque du Soleil patch

A second 'personal patch' was worn by Laliberté. This one is based on the logo of Cirque du Soleil, which Laliberté founded.
---
The Poetic Social Mission was the name Laliberté gave to his mission to ISS. This design was the first logo made public during his first press conference. The emboroidered patch, 11 x 7 cm, was worn on his on-board suit.
---

The logo of the One Drop Foundation logo also made it into orbit as an embroiderd patch. The drop itself was used as an element in the Soyuz TMA-16 crew patch.

---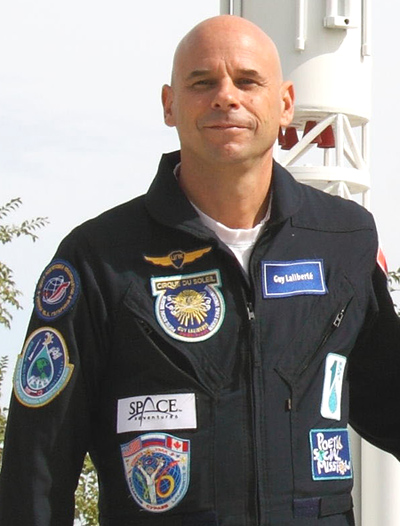 Left: Laliberté during his first press conference on June 4, 2009. This was the time the personal patch was first seen. Right: Laliberté displaying his collection of patches on his training suit, days before launch.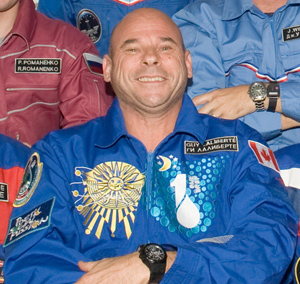 Left: Laliberte in his flight Sokol suit during walkout, hours before liftoff. Right: The first 'space clown' on board ISS. He is wearing the Poetic Social Mission patch. Note the elaborate embroidery of the Cirque du Soleil and One Drop logo's, produced by Kentaur Nauka.
---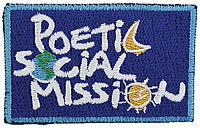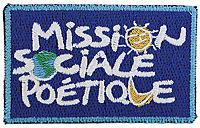 The souvenir versions of the Poetic Social Mission offered through the Onedrop/Cirque du Soleil online shop are much smaller than the original at 7 cm wide.
---
www.spacepatches.nl