1993

---
Left: Polyakov, Afanasyev and Usachev wearing their training Sokols. All three are wearing their personalized Stewart patches, as well as Stewart's mission patch. Also, quite interesting, they are the first to wear Russian flags with yellow "Rossia" tab, even though these were not present on their flight Sokols. Right: Usachev wearing his TK-training flightsuit during Soyuz TM-23 training. Note his personal patch.
Mission
---
Polyakov, Afanasyev and Usachev in their flight Sokols, ready for launch. They have a very minimal patch configuration: a Russian federation flag and a Zvezda-logo.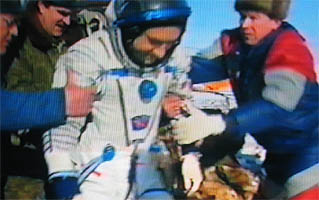 Two televison images of Polyakov following landing
---

Inflight pictures of this mission are somewhat scarce. Left: Polyakov is examining Soyuz TM-20 crewman Ulf Merbold later in his mission, when Usachev and Afanasyev had already returned to Earth. Center: Afanasyev seen wearing his Penguin suit in this television image. Right: Usachev in his daily working clothes. Note that he is wearing his personal Molchanov patch.
---
---

The design on the cover of the January 1, 1994 issue of Novosti Kosmonavtiki. It was first published in the magazine on September 13, 1993.

The TM-18 crew was the third and final to be supplied with free Stewart Aviation patches, again with co-operation from Vadim Molchanov. The design for the patch (probably done by Konstantin Lantratov again) was finished by September 13, 1993, when it first appeared in Novosti Kosmonavtiki. Molchanov received the embroidered EO-15 patches from Stewart before December 1993, when he personally presented them to the crew. He was accompanied on the trip to Star City by Konstantin Lantratov and Igor Marinin of Novosti Kosmonavtiki.

Lantratov: ,,The embroidered patches were brought from Tula by Vadim Molchanov himself and on a snowy day in December 1993, we traveled to Star City. Molchanov also presented the cosmonauts with a personalized patch. De crew really appreciated it, especially Polyakov's patch, showing Dr. Aybolit (a character invented by Korney Chukovskiy's). The cosmonauts attached the patches to their training suits and showed up with them during official photo shootings for the press."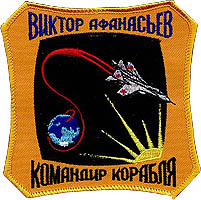 Personal patches for Polyakov (Stewart 1324), Afanasyev (Stewart 1323) and Usachev (Stewart 1325).
Even though the crew clearly accepted the patch and is was seen in public, it was not yet official. We have no indication that the emblem was actually used during the mission. Maybe, Tsibliev's personal TM-17 mission patch had been discussed by officials and maybe the crew had been instructed not to wear any personal patches on their Sokols. Like the EO-14 patch, the EO-15 patch (Stewart 1336) was seen again during Shuttle-Mir training, underlining the fact that it was accepted as an official mission logo by the cosmonauts themselves.

The crew did take a second mission logo with them. It was not an embroidered patch, but a sticker. With the cosmonaut's full initials following their surnames, it has something in common with the EO-15 Tsibliev Patch. It also has some similarities with the alternate sticker flown on EO-16. We do not know where these patches originate.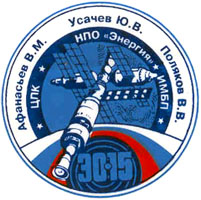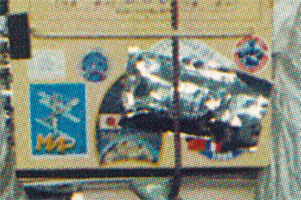 Left: The alternate EO-15 logo. Right: The sticker seen aboard Mir alongside red the EO-16 alternate logo.


---
TM-17 | Mir Index | TM-19