Soyuz MS-12 landing




A 'landing' version of the MS-12 patch, with the UAE cosmonaut Almansoori's name in Arabic replacing Koch's, the ISS silhouette with one of a Soyuz capsule under parachute and added UAE flag. Worn on orbit by Almansoori during the final days of his stay. This patch, and a version with the name in Latin script was prepared to be worn on the crew's Sokol suit during landing but was not in the end.
Designed by Luc van den Abeelen. COPYRIGHT ROSCOSMOS

Soyuz MS-15




The Soyuz MS-15 crew patch uses a hexagonal design with a view of space in the background, dominated by an image of our moon. In this way, the crew commemorates the 50th anniversary of man's first landing on our celestial neighbour. The blue and yellow border colours are borrowed from the Apollo 11 patch. Soyuz is depicted in blue hues, representing a reflection of Earth's atmosphere on the spacecraft's exterior. An arctic tern is at the top of the design, symbolising the prolonged mission on board ISS. This bird is known for the long migrations it undertakes annually. The space station is depicted as a silhouette, reflecting the golden rays of the Sun. The spacecraft's identification is shown against the lower part of the moon, with the Roscosmos logo in its centre. Six sections make up the design's border, alternately displaying the crew members' names and their national flags.
Designed by Luc van den Abeelen. COPYRIGHT ROSCOSMOS



UAE Astronaut Mission 1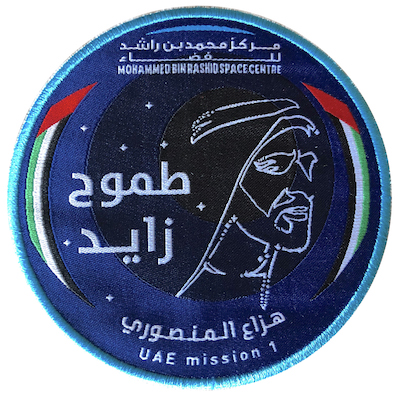 Patch for the UAE Astronaut Mission 1 as worn by Hazza AlMansoori, the United Arab Emirates' (UAE) first astronaut and spaceflight participant on Soyuz MS-15 to the International Space Station.


Soyuz MS-13




The circular Soyuz MS-13 crew patch focuses on the Soyuz launcher, depicted sitting on the Baikonur launch pad, while the service tower is opening as the spaceship is preparing to be launched into orbit.
 With the craft enclosed in the rocket nosecone, the launcher scene is surrounded by silhouetted stages of the Soyuz' lifecycle during its mission to the International Space Station. To the left is the ship approaching the orbital facility, which itself is depicted at the top of the design, while the missions end is illustrated by the parachute-assisted landing of the descent module.
 Three gold star to the left of the ISS represent the spaceship crew, consisting of Russian commander Skvortsov, NASA astronaut Morgan and ESA astronaut Parmitano. Their names are positioned on the left while the Roscosmos logo is shown on the right of the design, underneath the spacecraft's designation.
Designed by Luc van den Abeelen. COPYRIGHT ROSCOSMOS



Beyond




Luca Parmitano chose 'Beyond' for his next ISS mission. From the nearness to Earth of Pesquet's Proxima mission to the broadening scope of Gerst's Horizons mission, Luca saw a path that will push humankind even farther, for the benefit of all. The mission logo illustrates this trajectory. An astronaut looks out into space through a helmet visor. Earth and the Space International Station are reflected in this visor. In the distance, the Moon is poised for humankind's return, with the Orion spacecraft and exploratory rovers. Beyond is Mars, the Red Planet, currently being studied by satellites such as ExoMars, Mars Express and, one day, by humans.


Oct 18, 2019

---
---
Dream Chaser CRS-2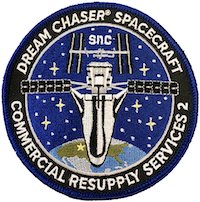 The program patch for Dream Chaser Commercial Resupply Services 2. Individual patches are expected for the actual mission to ISS.
---
Crew Dragon DM-2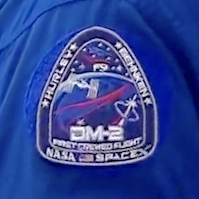 The SpaceX Crew Dragon DM-2 patch. Astronauts Hurley and Behnken are expected to fly the mission in early 2020.
---
Crew Dragon DEMO-1
The SpaceX Crew Dragon Demo-1 patch. The unmanned spacecraft was docked to ISS from 3 till 8 March, 2019.
---
Soyuz MS-14
This is the RKK Energia patch for the Soyuz MS-14 mission. It uses the company logo as a background. The spacecraft is shown in the foreground with its destination, the International Space Station, depicted as a silhouette. The spacecraft's designation is at the bottom of the design, incorporating the Roscosmos logo, while the first flight of the crew spaceship on the Soyuz 2.1a launcher is indicated at the top of the patch. The unmanned Soyuz MS-14 was docked to ISS from 27 Aug. till 6 Sep., 2019.
---
Starliner OFT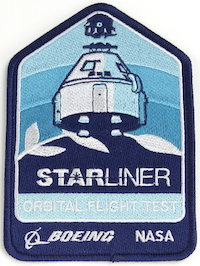 Boeing's Starliner OFT patch. The unmanned Orbital Flight Test is expected to launch on 17 December 2019.
---

ISS Soyuz Schedule:

Soyuz MS-16: Mar. 20, 2020 Tikhonov, Babkin, Hoshide
Starts Exp 63

---
Soyuz MS-17: Oct. 21, 2020 Ivanishin, Vagner, Cassidy
Starts Exp 65

---
Spacepatches.nl, created in 2000 by and for space patch enthusiasts, researches the history of space patches (primarily manned missions) and shares information with fellow collectors and designers.

We also proudly helped design and produce official artwork and embroidered patches, including: Soyuz TM-29, Soyuz TMA-4, TMA-12 '2nd edition', TMA-14 through TMA-22, all TMA-M and MS missions, Mars500, Soyuz au Guyana, Yurchikhin personal, VKD/EVA-25,26,32,33, new (blue) Roscosmos logo's, Samara Space Center, Soyouz/CNES, ISS Expedition-31, Expedition-37, ESA Astronaut Class 2009, Tereshkova replica, Soyuz T-6 30 years
---