Soyuz MS-20




The composition of the Soyuz MS-20 patch is built around a stylized image of an eagle spreading its wings and is associated with the crew's call sign - Altair. The star Altair (Alpha of the Eagle constellation) is the brightest in this constellation. The powerful bird in the drawing also reminds about the city of Orel, where the crew commander Alexander Misurkin grew up. The combination of red and white colours symbolise the flag of Japan. The graphic symbol at the bottom of the emblem consists from the letters "M" and "Z", and is the personal logo of Yusaku Maezawa. In the upper part of the emblem, a flying Soyuz spacecraft is shown. At the top of the emblem border are the Soyuz MS-20 spacecraft name and Roscosmos logo, and the bottom shows the crew names. The Soyuz MS-20 crew patch was developed by Alexey Tarapata and Maezawa's team. The final adjustment of the design was made by an artist from the Netherlands, Luc van den Abeelen. Copyright Roscosmos

Shenzhou-13




The Shenzhou-13 spacecraft is the second three-taikonaut crew to the China Space Station. The overall shape of the Shenzhou 13 manned mission logo uses a circle to express the traditional Chinese concept of "a place with a round sky". The color is mainly red and blue. Red represents Chinese red and the passion of space exploration, and blue symbolizes the vast universe and scientific exploration. The Shenzhou 13 spacecraft is depicted docking to the space station ant the beginning of a six-month mission. The background is deep space, and the surrounding stars symbolize the astronauts who performed previous missions, the logo of China's Manned Spaceflight Agency, and the part of the Earth showing the location of China. The olive leaf symbolizes China's policy of peaceful development.


NASA Crew-3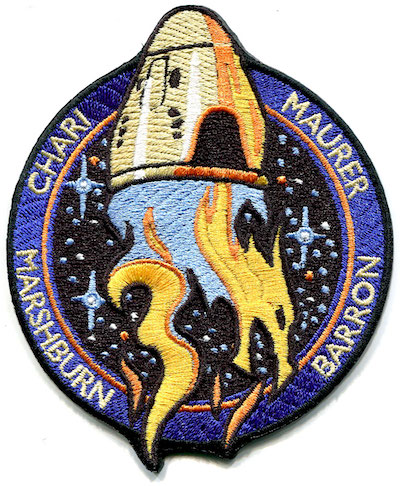 Crew Dragon with the Crew 3 launched to ISS on November 11, 2021.

Expedition 66




ISS Expedition 66 patch

Cosmic Kiss




The name of European Space Agency (ESA) astronaut Matthias Maurer's first mission to the International Space Station, Cosmic Kiss, is a declaration of love for space. The Cosmic Kiss patch takes inspiration from the Nebra sky disc, the oldest known realistic illustration of the night sky – as well as the Pioneer plaques and Voyager Golden Records that were sent into the unknown carrying messages from Earth. Like the Nebra sky disc, the patch features several cosmic elements including Earth, the Moon and the Pleiades star cluster. It also depicts Mars, one of ESA's three key destinations for exploration over the next 10 years, as a small red dot beckoning in the distance. Earth is shown borderless and backlit, with only a delicate line of atmosphere visible. The most prominent feature is a simplified, almost heart-like International Space Station. This is connected through a human heartbeat that stretches from Earth to the Moon. This heartbeat symbolizes the human presence and passion that propels exploration forward and connects us to the Universe, as well as the vital life science experiments the Space Station enables. The Cosmic Kiss mission patch features black representing the Universe, red for for love and passion, gold, the color of the stars and a white heartbeat for technology and scientific progress, bringing light into the dark. Cosmic Kiss launches as part of NASA's Crew-3 in October 2021.

December 9, 2021

---
---
Blue Origin NS-18
Patch for Blue's second crewed New Shepard mission, carrying actor William Shatner
---
Blue Origin NS-16
Patch for Blue's first crewed New Shepard mission, carrying aviator Wally Funk
---
Tianhe
Patch for Tianhe, the first element of the Chinese Space Station, launched on April 29, 2021
---
CSS
Patch for the Chinese Space Station programme
---
Starliner OFT-2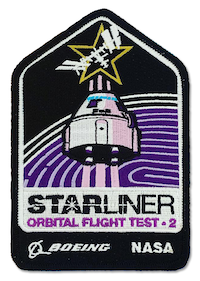 Boeing's Starliner OFT-2 patch. The unmanned Orbital Flight Test is expected in Q1 2022
---
Dream Chaser CRS-2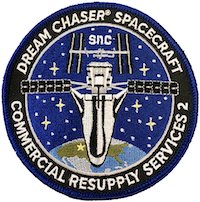 The program patch for Dream Chaser Commercial Resupply Services 2. Individual patches are expected for the actual mission to ISS.
---
Spacepatches.nl, created in 2000 by and for space patch enthusiasts, researches the history of space patches (primarily manned missions) and shares information with fellow collectors and designers.

We also proudly helped design and produce official artwork and embroidered patches, including: Soyuz TM-29, Soyuz TMA-4, TMA-12 '2nd edition', TMA-14 through TMA-22, all TMA-M and MS missions, Mars500, Soyuz au Guyana, Yurchikhin personal, VKD/EVA-25,26,32,33, new (blue) Roscosmos logo's, Samara Space Center, Soyouz/CNES, ISS Expedition-31, Expedition-37, ESA Astronaut Class 2009, Tereshkova replica, Soyuz T-6 30 years
---