Two Stewart Aviation produced Buran patches (103 mm dia).
---
The Soviet 'multi-use aero-spaceship' Buran performed a single, unmanned mission on Novermber 15, 1988, orbiting the earth twice before landing in automatic regime back at Baikonur. Many plans and missions were devised for a fleet of several orbiters, but non materialised as the Soviet Union crumbled and the budget evaporated.
---
A number of Soviet cosmonauts trained for Buran missions, one of whom wore a Buran patch, provided by Stewart Aviation and designed by Vadim Molchanov. Below left is Aleksei Borodai during a Soyuz training session, wearing the patch shown left above. At right is Viktor Zablotski wearing the blue Stewart patch at an air show.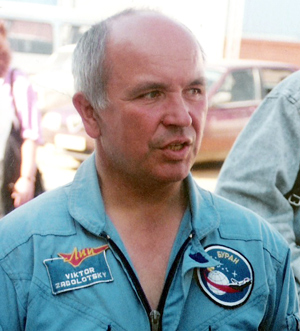 ---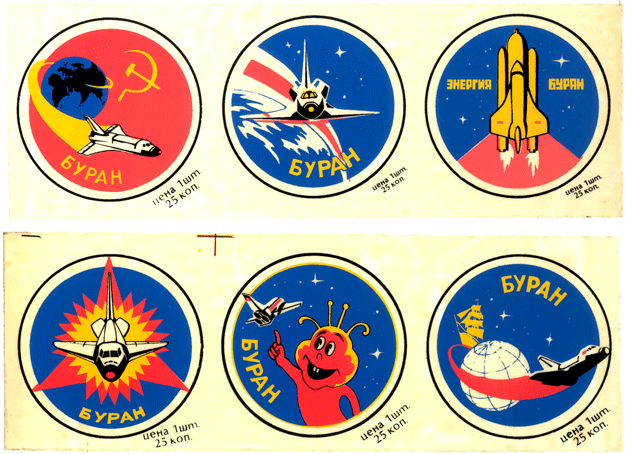 A number of Buran logo's, probably all designed by Vadim Molchanov, printed as stickers in the Soviet Union. The top left and bottom right one were produced as patches by Stewart Aviation. Some designs were clearly based on earlier Space Shuttle patches.
---
Space Commerce Corporation patch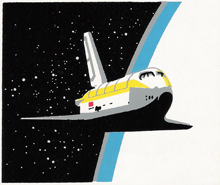 Left: this patch (152 x 90 mm), produced by the Space Commerce Corporation, reportedly was similar to patches worn by Buran cosmonauts during training, but none of those have ever been seen. The design is clearly based on a drawing used in a N.P.O. Energia brochure on the Energia-Buran system (right).
---
Gagarin Training Center patches
Three versions of a 105 x 204 mm patch connected with the Gagarin Training Center, but never seen on cosmonaut's clothing.
---
Left: a commonly available Buran patch (98 x 100 mm), based on the logo on a first day cover (right). In the embroiderd patch, the shape of the orbiter has become heavily distorted.
---
www.spacepatches.nl